Antiscalant and Antifoulant
King Lee's powerful proprietary formulations of antiscalant & antifoulants sets us apart from the crowd. For over 40 years we have formulated the industry's most effect pretreatment chemicals. They work to optimize, increase productivity, decrease cleaning frequencies and cut costs, all while taking on even the most challenging water applications.
Antiscalant & antifoulants work differently but all with the same goal, keeping your RO/NF membranes running at maximum productivity. Antifoulants work to prevent organic and biological material, colloids, silt, and other fine particulates from attaching themselves to the membrane. Antiscalant temporarily keeps sparingly soluble salts in solution so they do not stick to the membrane and form scale. There are many different types of scale and foulants which can hinder membrane performance. Depending on your water chemistry, you may need a broad spectrum antiscalant, a specifically targeted antifoulant or a product which provides protection for both.
You may be dealing with brackish ground and surface water, wastewater from reuse applications or seawater. We have the right product to meet your needs so you can keep the water flowing.
Classics: Tried and true broad spectrum line of antiscalant fully capable for the majority of water applications.
Targeted: Targeted line of antiscalant & antifoulants meant for particularly difficult and unique applications.
Synergy: Synergistic blends combine the ability to target specific scale and foulants while also having the comfort of broad spectrum control.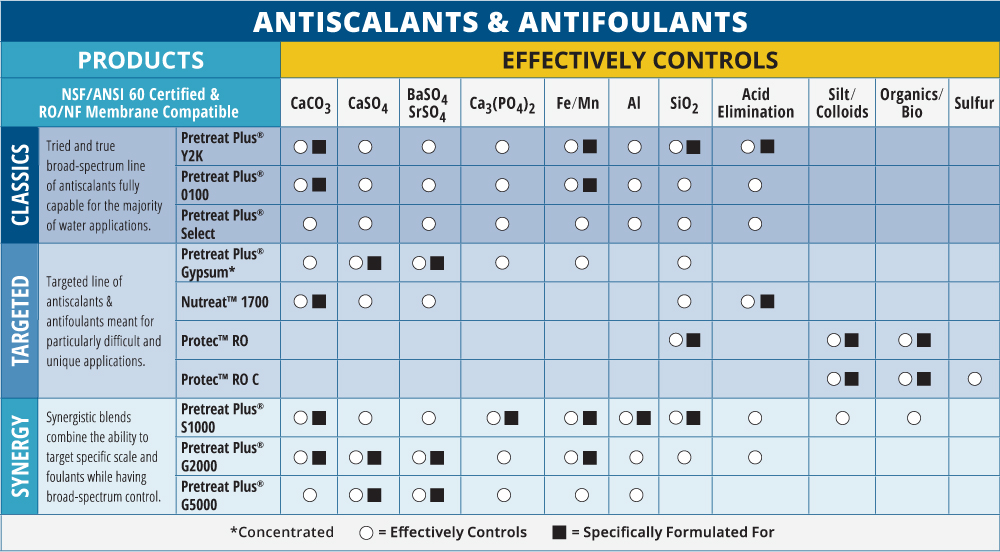 For us to be able to best identify which product is most suitable for your needs we would need to know what is in the water. You can download this water chemistry analysis worksheet fill it out and send it back to us at klt@kingleetech.com. We will run a chemical dosage projection to most accurately find out which antiscalant/antifoulant will be most effective.