NAVIGATING COVID-19

To all valued customers and friends,
This has been, and will continue to be, a difficult time period for people all around the world. As a manufacturer of essential products that are vital to water treatment facilities, we would like to personally assure you that King Lee Technologies is taking the necessary precautions to limit any impact the virus may have on our ability to manufacture and ship our products, while considering the health and safety of our employees.
King Lee Technologies is continually monitoring the status of our domestic and global supply chains. To this date we have not incurred any supply chain disruptions and we will work to limit any potential future impact the virus may have on our ability to source raw materials, manufacture our products and ensure shipments to our customers.
Work closely with partners to maintain the sourcing of raw materials needed to manufacture products
Increased supply of raw materials on hand at production facilities
Increased inventory of finished products at production facilities
Utilization of private trucking fleet and 3rd party carriers for delivery
Staff available to support your needs including orders, inquiries and technical support
In order to continue to supply consistent products and services, King Lee Technologies will take precautions to keep its workforce safe and healthy.
Non-essential travel has been completely halted

Limiting of any face-to-face meetings and increase in video/teleconferencing

Increased disinfection of common areas and work surfaces on a regular and continued basis

Practice of social distancing between employees
We continue to actively monitor the situation and are prepared to react accordingly in order to meet your membrane system needs. If you have any questions, please contact your King Lee Technologies Account Manager or Contact Us.
Trying To Help Fulfill The Need For PPE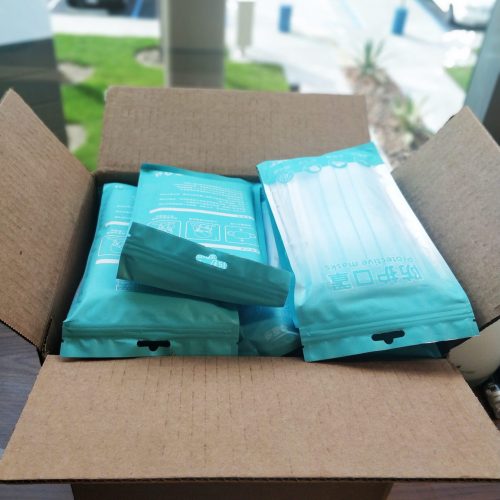 Our partners in China, Shandong Dongxing International Trade Co, were kind enough to send over masks. King Lee was able to provide a thousand surgical masks to local area hospitals in our entire "world" effort to combat the coronavirus. Thank you to DX and you can find out how to get in contact with them here.